As the global hotel industry embarks on its next decade, the tenor for the next few years will be one of continued uncertainty. From the recent, and as of yet uncalculated, outbreak of the Coronavirus, to global climate change, to political uncertainty, to more homegrown influences such as new supply, luxury hotel operators will need to continue to be vigilant. In our line of business we approach all these headline around the theme of 'uncertainty' with the same mantra: "trust the data".
STR, a Costar Group company, has been benchmarking hotel performance in the US since 1989 and globally since 2006. Most major luxury brands and high end independent hoteliers are our clients and provide us with the weekly performance data in exchange for market and competitive set benchmarking reports. We use that data to evaluate the performance of markets, countries and continents and comment about it at investment and owner conferences around the world.
The state of the luxury hotel industry in 2019 was good, but not great. Globally supply increased 2.9% over the last few years, pointing at the prolonged and steady interest that the top hotels receive from individuals and development funds around the world. This supply increase has had, especially in the Middle East, a negative effect on performance, sometimes profoundly so.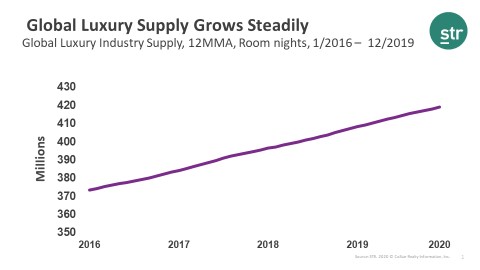 This supply growth was in the past outpaced by increases in room demand buoyed by a healthy global economy. That trend has now reversed.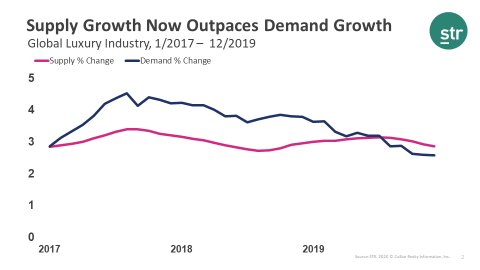 The outcome of the lack of stronger demand growth is then the deterioration of occupancy. Unfortunately, the afore mentioned uncertainty and occupancy softness has then led to global pricing uncertainty and in 2019 global luxury ADR declined (in $USD).
The supply and demand fundamentals on a global scale are of course a function of the more specific regional performance. In Asia, supply and demand growth were healthy but room rates (in $USD) deteriorated. In Europe, occupancies actually increased but in US Dollars the room rates declined, pointing partially at the strong dollar and particularly at a tough operating environment in some markets. The 2019 Europe comparative data was also impacted by the comparison with the World Cup in Russia which had strongly lifted the results in 2018. In the Americas lack of occupancy growth still translated into some room rate growth for luxury hotels pointing at pricing confidence in the Americas markets.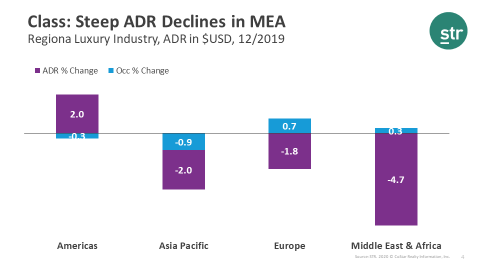 Looking ahead, developers will continue to vote with their wallet and quite a few cities around the globe are set to see new luxury properties, chief amongst them markets in China, the US and the UAE. It will be important to monitor if the Coronavirus outbreak will make developers more hesitant to move forward with their projects or if they think – likely correctly – that the luxury market is very resilient and that the room demand will rebound in time.
We will continue to monitor the global luxury hotel industry results and report back on the trends that emerge as the new decade gets underway.