By now, you've probably heard of Millennials. Also known as Generation Y, born between 1980 – 2000, overly familiar with media and digital technologies – yes, that's them. However, most research so far has been geared towards American and Asian Millennials, completely ignoring the buoyant market in the Middle East.
As one of the world's most youthful regions, with a median age of 22 years compared to a global average of 28, Millennials account for a quarter of the region's population.1 According to Visa, when concerning travel-related spend, Millennials in the Middle East are the highest spenders globally, typically spending twice as much as their European counterparts.2 As the Middle East's largest consumer base, brands need to be asking themselves: 'How do we attract and engage this market?'
Here are three key behaviours you can capitalise on:
1) Highest number of Millennial entrepreneurs
63% of business owners in the Middle East were aged 35 or under, according to a recent report by HSBC Private Bank, suggesting the region is home to the highest proportion of millennial entrepreneurs in the world. 46% of these entrepreneurs started their business whilst they were still at school or university, again the highest proportion in the world.
However, this success does not come easy as emphasised by the average workday. Working 12.5 hours a day, those in the region are working more than 2.5 hours above the global average for millennials.3 Plus, globalisation means working hours can be unpredictable and not the 9-5 working life. Their hunger for success means working significantly longer and in turn means less time for personal activities.
Hence, brands looking to attract and engage these consumers need to ensure they match the lifestyle. Advice needs to be immediate, transactions need to be seamless and services need to be 24/7.
2) Highest video consumption
According to Google, watch time on YouTube is growing 60% year-on-year in the MENA region, ranking second after the United States. Millennials are on their smartphones hungrily digesting video content, making mobile watch time rise by 90% year-on-year in the region, one of the fastest growing figures in the world.4
So how is this relevant? Research from Cisco revealed that 69% of consumer Internet traffic in 2017 was dedicated to video, while video-on-demand traffic will double by 2021.5 With Millennials all over the Middle East turning to YouTube to consume content on a daily basis, this is one of the best opportunities to capture your target audience. In fact, Tubular Insights found that 64% of consumers will make their purchase decision after watching branded social videos.6
Thus, brands targeting millennials in the region need to ensure that online video is their marketing weapon of choice. The rise of video consumption and content creation on the likes of YouTube highlight the need for visual marketing when promoting any brand.
3) Highest brand loyalty
We've all heard the growing concerns with brand loyalty and how Millennials are a fickle consumer. However, according to the Google Consumer Barometer, Millennials in the Middle East are going against the norm. Millennials in Saudi Arabia and the UAE demonstrate significantly more brand loyalty than their peers in Australia, the UK, Japan or the USA. 43% of Millennials in the UAE only consider one brand when purchasing flights in comparison to a mere 9% in Australia.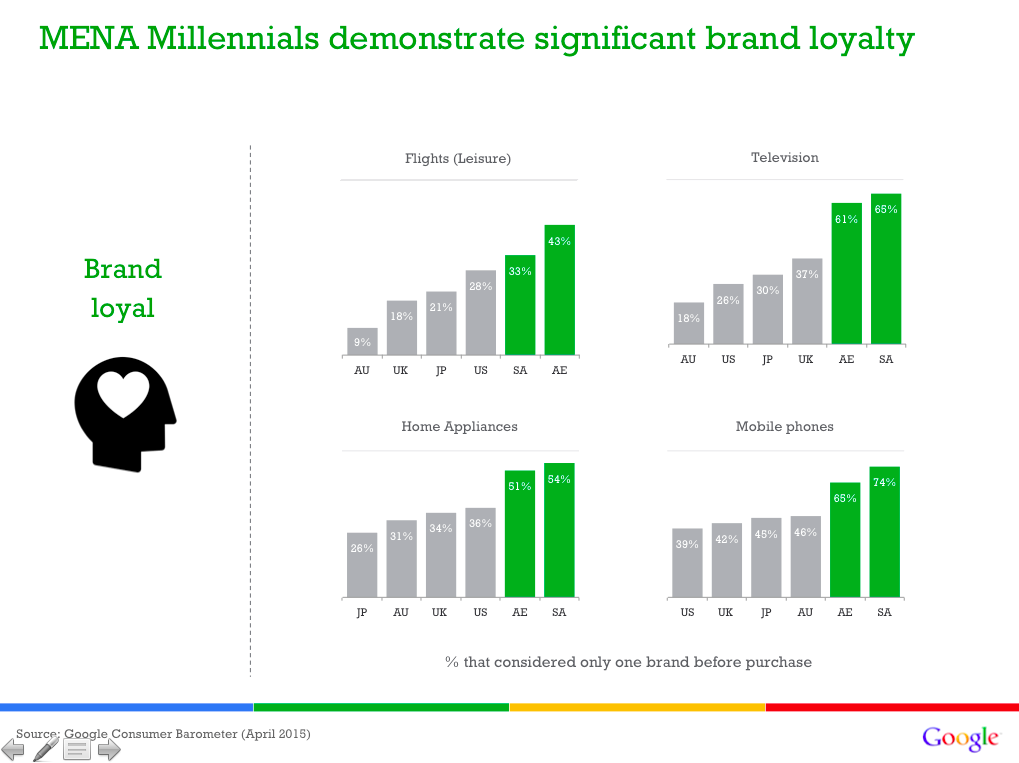 So how can you capture this brand loyalty? Psychologically speaking, customisation and personalisation are key. Finding out your customers' interests and preferences will allow you to customise their user journey. Likewise, understanding your customers' needs will allow you to meet them with personalised content. Both aspects will in turn increase your customers' engagement and overall brand adoption.
Key takeaways to attract Millennials in the Middle East:
Match your customer touchpoints with their fast-paced, busy lifestyles
Focus on visual marketing when promoting your brand
Use customisation and personalisation to increase brand engagement
Coming face-to-face with HNW Millennials in the Middle East can be tricky. Luckily travel brands looking to reach this consumer market have an alternative target; their travel agents and advisors. You can meet the agencies representing these HNW travellers at ILTM Arabia in Dubai.

Sources