The typical definition of luxury is that it is an indulgence rather than a necessity. However, in Asia as is the trend globally, luxury travel is no longer about conspicuously high prices and conventional badge value; it is evolving and we must therefore redefine luxury in new terms for a new generation of traveller.
This generation eschews the elaborate and ornate and looks for more specialised, intimate experiences. They are discerning travellers who not only like things to look good, but to feel good. Understated, gilt-free and guilt-free luxury, together with personalised experiences, have become the cornerstone of the luxury travel market.
Nowadays this market is defined through the combination of the richness and uniqueness of the travel experience itself, not just the hotel brand or the flight class. Accordingly, this experience must also deliver a level of social bragging rights that allows travellers to express their individuality. It needs to be aspirational, enviable – and, above all, Instagrammable.
In this report, OgilvyRED and ILTM look at the trends and shifts that support this view and you will see that:
Growth is not all about China; there is an exponential rise from Southeast Asia that comes with very different expectations.
The 'Luxury Market' blurs lines between mass and affordable luxury and between travel types, with categories like business and leisure overlapping more than ever before.
A generation of affluent travellers who will fuel future category growth are coming of age. These travellers bring very different demands, needs and expectations.
Download the report below to build action plans from both a luxury travel brand and a luxury travel agency perspective.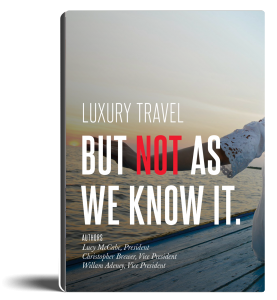 Looking for similar reports? Check out Engaging the Asia Pacific Millionaire Traveller brought to you by Agility Research & Strategy and ILTM.