Asia Pacific has retained its position as the region with the largest HNWI population globally. Naturally, luxury brands, and particularly luxury travel brands, are eager to tap into the growing purchasing power of Asia Pacific's millionaires. Understanding the consumer and their changing behaviour is key to this, which is why we've partnered with Agility Research & Strategy to uncover critical insights.
Through interviews with close to 3,000 affluent respondents across China, Hong Kong, Japan, South Korea, Thailand, Malaysia, Singapore and Australia, our latest report will explore:
Perceiving luxury and necessity
Destinations on the horizon
Travel behaviours and demand
Brand expectations
Future trends
Discover what the above means for your brand by downloading the report below.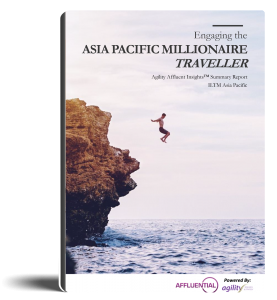 Looking for similar reports? Check out Luxury Travel, but Not as We Know It brought to you by OgilvyRED and ILTM.